HEAD OF JUNIOR SCHOOL

Grandparents' Day
2017 promises to be a very special Grandparents' Day for families in Kindergarten to Year 2 classes. Information regarding this day has recently been sent out to parents and caregivers and is also available from Junior School Reception.
A number of our students will give performances at the school for their grandparents which recognises the significant contribution that they make to their education and growth and to thank them for their wisdom, contribution and assistance. The day is a wonderful opportunity for grandchildren to celebrate their education with their grandparents and to recognise their contribution to the upbringing of the children. It will be wonderful to meet you all on the day and I would really encourage your attendance.
We hope that many will join us on Friday, 7 April. The day will commence with the K – 6 Easter Service in the School Hall at 9.15am, followed by the K – 2 Grandparents' Day concert at 10.00am. You are asked to respond as requested in the invitation.
Please note that parking will be at a premium and that our school bus will help with transport between the Junior School and the Hall. Remember students are expected to arrive in the Junior School at the normal time to enable rolls to be marked before they walk to the Hall.
Schools Leading Learning
Our Junior School teaching team have continued to work on the Schools Leading Learning project this year in working to further enhance academic outcomes for all of our students. Last Wednesday, Dr Frances Whalan and Cathryn Moore from AIS NSW led our staff team through reviewing our student work samples for writing against the literacy continuum, and triangulating this data against our NAPLAN results. This enables us to collaboratively plan for all of our teachers to work together on a lesson study next term in implementing evidence-based strategies to enhance targeted areas of student writing. A huge thank you to our teaching team for their hard work on this project and their preparation for Parent-Teacher interviews as well.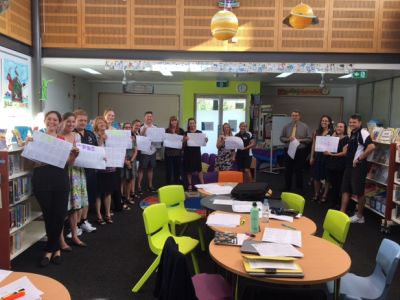 Languages
Lakes Grammar is partnering with Fun Languages Australia to offer Spanish lessons after school next term. The lessons will run from 3.05pm – 4.05pm each Wednesday afternoon. The lessons incorporate play-based language learning with fun activities, craft, drama, puppets, music and games.. The program is designed especially for primary aged children and is delivered by an experienced native Spanish Teacher. Vanessa Jiminez, the teacher, has a Diploma in Early Childhood Education and has been teaching Spanish on the Central Coast since 2015. The cost is $16 per class, which is payable by the term, and discounts if more than one family member is enrolled in the class. You are welcome to contact Nathalie Roy at LCF Fun Languages Australia either via mobile on 0430 286 590 or via email at nathalie.roy@lcfclubs.com.au if you require additional information.
Harmony Day
Our school celebrated Harmony Day on Thursday, 16 March. Harmony Day is a celebration of our cultural diversity – a day of cultural respect for everyone who calls Australia home. The message of Harmony Day is 'everyone belongs', and the Day aims to engage people to participate in their community, respect cultural and religious diversity and foster sense of belonging for everyone.
On the day, Senior School students were able to work with Year 5 and OC students to participate in "The One Million Starts to End Violence Project" as part of our annual Harmony Day and National Day of Action against Bullying and Violence activities. Students from the Senior School's Mental Health Advocacy Program (MHAP) group, Jordan Stevens and Elyse Hayhurst, presented an informative and heartfelt introduction to our celebrations. Students created over 260 stars which each represent the school's commitment towards a bullying-free and violence-free environment. The stars will also contribute to a massive art installation as part of the Gold Coast 2018 Commonwealth Games.
I was also able to share a great story with our Year 3 – 6 students at assembly that afternoon – Mem Fox's latest book, 'I'm Australian Too!', which celebrates our multicultural heritage, looking at the way that many people, from countries near and far have made their home in Australia, sharing our land with our Aboriginal and Torres Strait Islander people.
Congratulations to all involved!
Year 2 Excursion
On Tuesday, 21 March Year 2 went to Warnies Café at Warnervale for a Geography excursion. They have been studying places in our local area and how spaces can be used.
Parent – Teacher Interviews
It was a delight to see so many parents this week at the Parent-Teacher Interviews on Monday evening. I would continue to encourage students to reflect on their goals for the year and performance to date in reviewing and setting goals for the remainder of the year in the context of their self-assessment and the feedback they have received from these interviews. Whilst reports are an accurate record of performance they are not the sole means of communicating detailed information to families.
Please remember that whilst these formal interviews give you the opportunity to discuss your child's progress with their teacher. You are most welcome, and encouraged, to speak with your child's teacher at any time throughout the year.
Junior School Awards – Term 1 Awards Assembly
The Term 1 Awards Assembly is fast approaching and will be held in the School Hall on Monday, 27 March, commencing at 1.30pm.
In the event of wet weather, a condensed Assembly will be conducted under the Junior School COLA with prizewinners and performers attending. The Assembly will commence at 1.30pm in the event of Wet Weather. Details will be placed on the Events Line (4393 4134) if necessary.
Building Learning Power
We are continuing to work on our Building Learning Power program in classrooms. The diagram below shows the four areas of our 'Building Learning Power' program (Reach Out, Look Within, Think Clearly and Believe in Ourselves) which link in with our school motto 'With Heart, Soul, Mind and Strength'.
A number of learning actions which are associated with each area are listed around the outside of the circle.
Lakes Grammar Habits
The Junior School utilises the learning framework of Lakes Grammar Habits to effectively integrate our Building Learning Power, Positive Behaviour for Learning and Virtues programs.
Building Learning Power develops the capacity of students for learning, their curiosity, craftsmanship, creativity and collaboration.
The Virtues program develops children's Christian values, moral harmony and moral integrity, including kindness, honesty, trustworthiness, service, empathy and moral courage.
Positive Behaviour for Learning develops our student self-regulation and self-awareness to demonstrate respect, responsibility and care for themselves and others.


The Junior School collectively focuses on a Habit each week drawn from one of the three programs whilst concurrently working with students to develop a range of habits and capacities in the day to day life of the school.
Over the beginning of the term, we will be focusing on the following concepts. These are also recorded in the Student Diary for each week:
Week 9: Litter in the bin
Week 10: Forgiveness
Stars of the Week
Demonstrating our 'Lakes Grammar Habit' of Compassion:
Abigail Sonter, Hannah Ponchard, Ella Turner, Addison Kowaliw, Christopher Webb, Keira Rodrick, Valentina Williams, Ava McLeod, Jenel Safar, Mitchell Pernecker, Blake Smith, Suzannah Ashby, Jhon Safar, Ella Palmer, Sam Cook, Anabella Amorin.
Demonstrating our 'Lakes Grammar Habit' of listening respectfully and with empathy:
Oliver Hutch, Lachlan Young, Kobi Keys, Olyver Hokin, Emma Lamphee, Zander Graham, Liam Schwebel, Ella Lear, Benjamin O'Brien, Mackenzie Harmer, Anu Babu, Jayden Rooke, Jake Sanday, James Schurk, Lara Kinder, Boyd Rumbel.
Mr William Wallace
Head of Junior School